1. I've been revising a MG novel that I'm sorta obsessed with,
2. And also battling various viruses and power outages that regularly beset my family
2 1/2. Good news! I can play Frere Jacques on my acoustic guitar! First song! In French!
p.s. How are you all? Busy writing? Holiday shopping? Cookie baking is just around the corner!
It's been so-oo-ooo long since I posted because:
Playing a guitar is like writing because--well, everything reminds me of writing. But here's what I've learned so far from playing the acoustic guitar, and I've had one lesson so believe me I know what I'm talking about, being a beginner is awful. It's not fun or joyous. When I pick up the guitar and attempt to play a chord it sounds bad. Really bad. When I try to follow along with an "easy" song, it's painfully slow going. And it's frustrating because I know what it should sound like and it's not this. But I'm glad I'm trying something new and bumbling along because it helps me remember what it's like for my kids who I always encourage to try new things. They get frustrated and give up easily and I always say stuff like, "C'mon, try a few more times. So you fell off your skateboard five times. Get on it again."

But now I remember. It's hard to struggle with something new. Something that looks easy and cool and fun, and then when you try it you flop. Of course everyone's a beginner at some point. And it just takes a little encouragement to keep going. From your mom, or a friend, or an agent. See what I did there? It all circles around.

In only 10 short years, I'm sure my rendition of Barenaked Ladies' If I Had a Million Dollars will go from lethargic to almost singable.

Have you taken on any new projects where you're a rank beginner? Does it make you feel exhilarated with the new experience or frustrated?


1. You guys, I got my new acoustic guitar! It was an early Christmas gift from my hubby*.
Isn't it beautiful?
2. Why, yes, that little Post-it reads: Don't Touch Guitar. That's because on the first day, my Little Guy "tuned" it for me, requiring about an hour and a half of me re-tuning it with my new digital Quik Tuner. He also dropped a pick inside it. Another long fishing out process.
3. Not to worry, Little Guy's getting a kid-size acoustic guitar on his birthday. We will be jamming together soon.
3 1/2. I'm revising my YA novel set in Hollywood. A new type of story for me, kind of a romantic mystery with some glamour on top. How's your writing going?
p.s. Random poll: just wondering, anyone else buy their own gifts ahead of time? Ahem.
*Which he was delighted to learn about upon its arrival. Check that off your list of things-to-do, hon. You're welcome.
[Mom sets down delicious platter of chicken marsala with angel hair pasta.]
Little Guy: I don't like this.
Big Guy: The chicken is tasteless, but it's fine.
Mom: It's not tasteless! I used Emeril's recipe for chicken marsala.
Little Guy: Yuck. I hate Emeril's chicken marsala
Big Guy: Do I detect a hint of olive oil?
Mom: Yes
Big Guy: Perhaps some more spices would help. The sauce is rather bland.
Mom: Grrrr....
Admittedly, my cooking skills are not the best, but I've been trying out new recipes trying to find something that the whole family will eat. I'm working through
Real Food for Healthy Kids
. Thanks also to
dlgarfinkle
for recommending Mark Bittman's
How to Cook Everything
. It's like a cooking school in a book. I'm finally improving my chopping technique. Goodbye 10 minutes to chop an onion; hello 8 minutes!
How do your family dinners go? Any family favorite recipes or cookbook recommendations?
My 9 y.o. son has been watching a lot of the Food Network lately. Which is great--broaden his horizons, expose him to different kinds of foods, yada, yada, yada. But now when I serve up dinner, I hear comments like this:
Of course I'm happy that school's starting, my boys were into major sibling rivalry mode. A sample: MO-OO-OO-M! He's touching me! No, he's touching me! Stop poking! Let go! I don't wanna hug! GO AWAY! MO-OO-OO-M! <<cringe>>
Ahem.
This may have been exacerbated by our small hotel room at the Holiday Inn during the long Hurricane Irene blackout. So, you know, it's time. Still, it's bittersweet because my youngest is starting kindergarten tomorrow! No more Little Guy! He's officially Medium! I'm playing it cool tomorrow, not going to let the kids at the bus stop see my cry face.
It'll be hiding behind my camera.
p.s. I missed you guys! I've been crazy writing a new geeky MG novel, and vacationing, and surviving a power outage with two high voltage boys! How are you? What's the latest with your writing project? Please share!
On Saturday I went to The Voracious Reader, a really nice children's bookstore in Larchmont, NY, for Sheela Chari's book launch party of Vanished. It was so great to meet
sheela_chari
in real life after chatting on LJ and working together on the Mixed-Up Files blog. Her party was well attended with crafts for the kids, snacks in the cafe next door, a reading, and signing. I can't wait to read Vanished--a MG mystery involving a disappearing veena (traditional Indian instrument).

This is a smaller version of the veena, Sheela showed us a carved dragon on the top that plays a part in the story: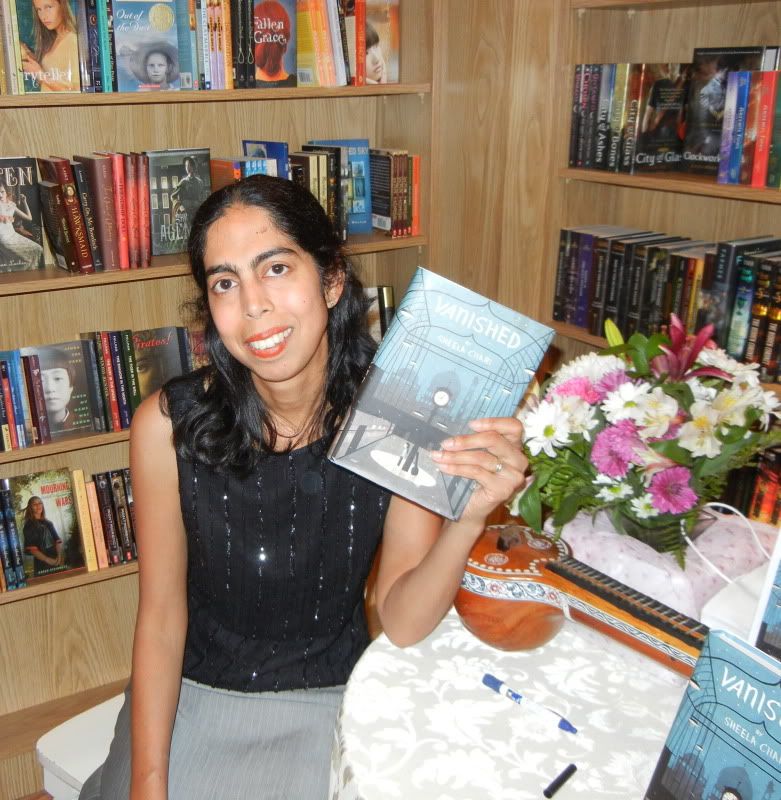 I've had the weirdest Empty Nest kind of feeling these past few weeks as my preschooler approaches graduation. He's my youngest and it suddenly hit me I don't have a baby anymore. In the fall, both boys will be getting on the big yellow bus to the elementary school. Why should I feel so emotional about it? He's five. Obviously he needs me and will be with me for many more years, yet I find myself bereft searching on PetFinder dot com for my new baby.

I don't want to embarrass anyone--especially my 9-going-on-17 y.o. boy--but I may be a little sniffly on the first day of school. If you've felt the same, let me know your coping technique in the comments. I am not exaggerating when I say nearly every family at our elementary school got a dog when their youngest started kindergarten. Help me not be a cliche!



h, woe.

Happiness project part 1: Boost Energy was a flop. My plan, like the author of Happiness Project, was to boost energy by 1) eating healthier (too many birthday goodies around here for Big Guy's 9th birthday); 2) exercise more (pinched a nerve in my back frantically killing a tick on the bathroom wall. Darn Lyme-disease infested varmints) and 3) sleep more (5 y.o. spent more than a week waking me at 3 am to 1) find his plush Spongebob; 2) adjust his blanket; 3) put his bad dreams back in his dream catcher). All of which is to say: Energy boost=NOT.

I have decided to write the sequel to the Happiness Project titled, Why Bother? How Life Always Gets in the Way of Your Plans. Pen in hand, I opened up my notebook and then thought, Why bother?

Exactly.

How's things at your place? Any well-meaning resolutions gone wrong? I'd love some company in my energy depleted state. :p


O
I just read this cool book by Gretchen Rubin,
The Happiness Project
. It was an impulse buy at the bookstore. The subtitle intrigued me: Or, Why I Spent a Year Trying to Sing in the Morning, Clean My Closets, Fight Right, Read Aristotle, and Generally Have More Fun. What I loved about this book was that it wasn't just a month to month chronicle of her efforts to make resolutions and arrive at truths for her own happiness, but also a scholarly look at what philosophers, modern psychology, and pop culture have to say on the subject of happiness.

I was simultaneously exhausted and fascinated by the sheer number of resolutions Rubin tackled--new tasks added each month until December where she had to do all of them at once. Tasks such as: Exercise better, clear clutter, quit nagging, give proofs of love, work smart, enjoy now...And that's just the first three months!

The book comes with a guide to start your own Happiness Project, which I do plan to try. The main truths from the book that resonated with me for finding happiness were:

1. Staying true to yourself (including being honest about your likes and dislikes)
2. Striving for constant growth and challenge (it's the journey, not the destination)
3. The days are long, the years are short (my new parenting mantra).

Have you read the book? Do you have favorite ways to boost your happiness?